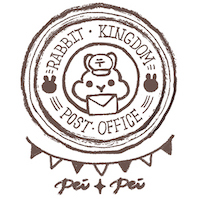 - Little Rabbit Post Office  -
▲  Placing an order constitutes acceptance of the following terms and conditions 
▲

If you have any inquiries regarding your shopping, please feel free to message Pei.
 We hope you have a delightful shopping experience :)
_____________________________________________________________
Log in as a member (if not, please register first)  ▶ Add the desired artwork to the shopping cart ▶ Checkout ▶ Confirm the purchase items, quantities, and amount ▶ Confirm the shipping information ▶ Submit the order (+ complete payment) ▶ Complete the purchase
▴ Order Confirmation: There is no reservation function in the shopping cart. You need to complete the checkout process to successfully place an order. You will also receive an Email notification from the system indicating the order has been established.
▴ In-stock Items: shipped every Monday and Tuesday.
▴ Pre-order Items: Released irregularly. The purchase details are subject to the current announcement's construction period.
▴ In-stock/Pre-order items should be purchased separately, and we apologize that they cannot be shipped together.
▴ Combine Orders: To avoid extending related disputes, we do not provide combined orders/shipments. Please make sure the desired items are in the shopping cart before checkout!
▴ Please make sure to confirm the purchase items/use the discount before placing an order. If the buyer repeatedly requests to cancel the order, Pei reserves the right to reject the application.
▴ Shipping Packaging: In our efforts towards environmental protection, the default shipping packaging only provides basic protection! If you need gift wrapping, please add it to the "other" category.
▴ Order Communication: If there are any issues related to the order, Pei will contact you through the order communication. If there is no response, the final message will be defaulted to inform you of the processing method.
▴ Received Parcel: To protect the rights of both parties, please check the integrity of the package (whether it has been opened and resealed) + record an unboxing video when receiving the parcel, so that evidence can be presented if any problems arise.
_____________________________________________________________
▴ Check "Become a Pei+Pei Member" to facilitate future login and view order status.
   Non-members cannot query orders/accumulate Little Rabbit Coins or membership qualifications, and post-registration is not available.
▴ Members can accumulate shopping credit, and upon reaching the corresponding amount, become a member of Little Rabbit Nation. (For detailed membership information, please see the "Little Rabbit Nation Membership" page.)
▴ Members can accumulate Little Rabbit Coins, which can be used to redeem discounts on the next purchase. (For detailed membership information, please see the "Little Rabbit Nation Membership > Little Rabbit Coins" page.)
▴ Be sure to fill in the correct Email address! The system will send notifications to your Email for successful orders, shipments, and private messages.
▴ If you want to receive notifications of new products and Little Rabbit Postman's whispers, please check "Accept Emails and SMS" during registration to receive the first letter as soon as possible :)
   (Due to different mailbox systems, the letter may be classified as promotional or junk mail, so please pay attention when receiving it)
_____________________________________________________________
▴ Bank transfer / wire transfer / no receipt
   We provide postal service and Yuanta Bank accounts. Please complete the payment and report (via the "Payment Status > Pay and Upload Details" button on the order page) within 3 days, and upload a photo of the transfer receipt for verification.
   If no response is received within the payment period, the order will be automatically cancelled. If you encounter any difficulties, please send a private message in advance.
   (Regardless of whether payment has been made, orders will be cancelled if no report is received. Pei is unable to determine if you have made the payment, so the payment report is required.)
▴ PayPal
   This payment method is only available for customers outside Taiwan and requires a 4.4% handling fee on the checkout amount (charged by PayPal).
_____________________________________________________________
(Before placing an order, please ensure that the recipient's information is accurate. If a nickname or an English name is used and it causes delivery failure, the buyer will be responsible.)
▴ Registered mail: Shipping fee is NT$60 (the fee is the same regardless of package size).
   There is no delivery service on weekends and holidays, and delivery time cannot be specified.
▴ Convenience store pickup: Shipping fee is NT$65.
   For orders that are returned due to exceeding the pickup time, if they are to be reshipped, another shipping fee is required. Regardless of whether the order is to be reshipped or abandoned, if it is returned twice due to non-pickup, it will be blacklisted.
   When picking up at a convenience store, please provide the recipient's full Chinese name (same as ID) as nicknames may cause difficulty in verifying identity. If the package is returned due to failure to pick up, the buyer will have to pay for the shipping fee for reshipment.
   Hong Kong / Macau: All orders will be sent via SF Express and shipping fees will be charged based on the actual weight of the package.
  Delivery to China is currently suspended due to SF Express delivery policy changes!
   Other regions: All orders will be sent via Chunghwa Post registered mail and shipping time is approximately 7-14 days. Fees will be charged based on the postal scale.
Unless the product is sent in the wrong style or is defective, all sales are final. Please confirm your purchase before placing an order.
▴ Wrong product or defective item: Please take photos within 7 days after signing and contact us through the order message section. The defective item must be returned for exchange, and requests after the deadline will not be accepted.
   The shipping fee for returns and exchanges will be covered by Pei. For exchanges due to defects, only the same style is available, and for exchanges due to wrong products, the item must be returned in new and unopened condition for exchange.
▴ Handmade items may have minor imperfections that cannot be avoided. If you are concerned, please do not place an order.
_____________________________________________________________
We reserve the right to add, delete, change or terminate any service items or content based on our needs and actual circumstances. Discounts and promotions are based on successfully paid orders. If an order is cancelled due to delayed payment, the service content of the new order must be used.